The EU has accused Google of wielding its power as the world's leading phone software supplier to impose its search and Web programs on billions of mobile users as European Union regulators took another swipe at the U.S. technology giant.
The European Commission sent Google a formal antitrust complaint, accusing the company of striking restrictive contracts that require makers of tablets and phones to install its search and Web browser on new phones. The company also unfairly pays phone makers and telecom operators a share of advertising revenue if they agree to make Google's search engine the default on devices, the EU said Wednesday.
"What we found is that Google pursues an overall strategy on mobile devices to protect and expand its dominant position in Internet search" with unjustified restrictions and conditions on phone makers and carriers, EU Competition Commissioner Margrethe Vestager told reporters. "Over half of Internet traffic takes place on mobile devices."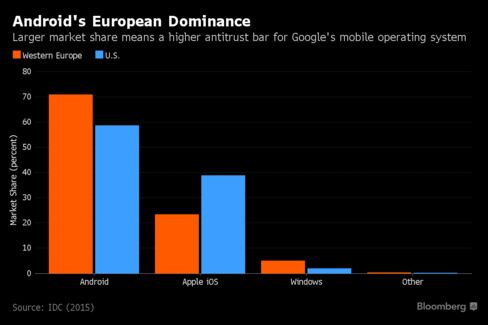 Google countered the EU charges, saying that Android is a "free and open-source operating system."
"Our partner agreements are entirely voluntary," Kent Walker, the Mountain View, California-based company's general counsel, said in a statement. "We look forward to working with the European Commission to demonstrate the careful way we've designed the Android model in a way that's good for competition and for consumers."
Google is in the EU's sights more than a decade after regulators took aim at Microsoft Corp. for tying a media player to its bestselling computer operating system. While some things have changed since then, Google's efforts are "a strategy to keep and expand" its power in search by nudging Android users toward Google's mobile search, Vestager said.
Read more from Bloomberg